TRACE Mobile, the first lifestyle network developed for the South African youth by the youth, celebrates the impacts that its TRACE Troops employment initiative has had on the lives of South Africa's youth. As a part of the programme four 'troops' were given the opportunity to be part of the brand's latest advertisement.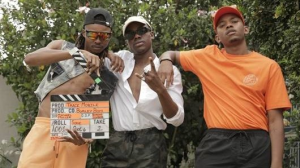 TRACE Troops is TRACE Mobile's youth employment initiative, which aims to give full-time employment to youth by training them in sales, marketing and events in order to best represent and sell the brand onto their peers. TRACE Mobile breaks down the 12 troops into two separate groups: Lifestyle dealers, and activation and events coordinators.
Lifestyle dealers are responsible for increasing the TRACE Mobile distribution footprint. They aim to do this by identifying key independent lifestyle retailers, in target areas, to partner with TRACE Mobile in the distribution of SIM Cards. Activation and events coordinators play a supportive role of assisting in events and activations. This includes promoting the TRACE App and Lifestyle rewards.
"The TRACE Troops are a testament to the mission of TRACE Mobile — to empower and connect the youth to what matters to them the most. 12 young people became TRACE Troops in June 2019, and having worked with them directly, I've seen them grow in leaps and bounds," says Ian Postman, head of sales and distribution at TRACE Mobile.
"Initially, they came in to increase our distribution footprint among lifestyle retailers, but outside of this, they've added tremendous value to the business in various ways. The future of South Africa's youth is bright and TRACE Mobile aims to continue to be part of the solution," adds Postman.
Of the 12 TRACE Troops in the programme, four Lifestyle dealer troops — Teboho Tsotetsi, Reabetswe Shongwe, Setshaba Phalane and Sheunopa Bell — were given the opportunity to star in TRACE Mobile's latest advertisement.
The inclusion of the four in TRACE Mobile's advert was, according to the brand, an opportunity to give the troops additional experience within marketing and advertising, as well as a first-and look at what it takes to get into film, television and entertainment.
Pretoria resident Setshaba Phalane says that he has a fascination with music, and has recently completed his music business masterclass at the Academy of Sound Engineering. Phalane says that he has ambitions of getting into the music industry as a producer and a label executive.
"I'm a natural when it comes to being in front of a camera and I enjoyed learning what goes behind shooting a TVC; it gave me a great perspective on what I have to do and improve on in order to become a heavyweight content creator and strategist in the near future," Phalane adds.
Reabetswe Shongwe says that she has a passion for the media industry. She completed and majored in advertising. "I had an amazing experience being on set and learned so much from the producer, as well as the process behind the creation of a commercial."
"My goal is to take the knowledge I've gained as a TRACE Troop and apply it in my career field of media studies. I would like to be more involved in advertising, within TRACE Mobile and TRACE TV, as I have completed my studies and majored in it."
Teboho Totetsi, the main star of the advert, says that he loved being the lead character. "My goal is to grow TRACE Mobile and to play my part; I'm working towards handling the social media aspect of it all and create a brand on social media that will blow away all TRACE Mobile subscribers," says Totetsi.
Northriding student Sheunopa Bell, says that he has ambitions of becoming a qualified chartered accountant and entrepreneur. "[Being in the advert] taught me great social skills, self-confidence, self-belief and versatility — all skills that I will need when going into entrepreneurship," concludes Bell.
While the TRACE Troops initiative is a temporary reprieve for youth, of the twelve troops a select number will get the opportunity to get permanent employment within TRACE Mobile and TRACE TV. Similarly, the brand says that it intends on rolling out similar initiatives around the country in the KwaZulu-Natal and Western Cape regions in 2020.
source : https://bit.ly/35jYRcX