Eskom has announced that it will implement stage 2 load-shedding until 23:00 on Monday 9 December.
The power utility added that the probability of load-shedding would remain high throughout the coming week due to the shortage of capacity.
Eskom said that it had lost additional power generation units during the course of the day on Sunday 8 December 2019, which resulted in unplanned breakdowns increasing to 12,000MW by 19:00.
To cope with the loss of these units, Eskom was forced to increase its reliance on diesel and water at its open-cycle gas turbines and pumped storage schemes.
"Regrettably, as a result, we have been unable to conserve water and diesel as required to stop or to minimise load-shedding for the coming week," Eskom said.
"We remind customers that load-shedding is a responsible act to prevent a national blackout."
Unreliability and rain
Another factor which has added to problems with the national grid has been the incessant rain over the past week, which has caused coal-handling problems at Eskom.
This, combined with the general unreliability of the power system, has resulted in decreased power generation efficiency and an increase in rotational blackouts.
Load-shedding peaked at stage 4 on Friday 6 December and continued at stage 2 throughout the past weekend, and rolling power outages look to continue for the week ahead as Eskom struggles to cope with unplanned breakdowns and inclement weather.
"As we continue to experience rainy and cooler weather conditions in some parts of the country, we ask that you use efficient heating to keep warm and switch off your geysers over peak periods," the power utility told consumers.
"We will keep South Africans informed about the status of the electricity system and our recovery efforts throughout this period," Eskom said.
Higher electricity tariffs
This follows after Eskom applied to Nersa for increased electricity tariffs, asking for R27.2 billion to be added to power tariffs to account for the amount under-recovered in the 2018/19 period.
If Nersa was to grant Eskom the full R27.2 billion for 2021, electricity tariffs for the year would increase by 11.38% rather than the currently expected 5.01%.
As part of the application, Nersa will compare Eskom's spending in the 2018/19 period to the tariff that it was awarded for this period.
According to Eskom, it was awarded R86 billion in this period, while its costs totalled R99.4 billion.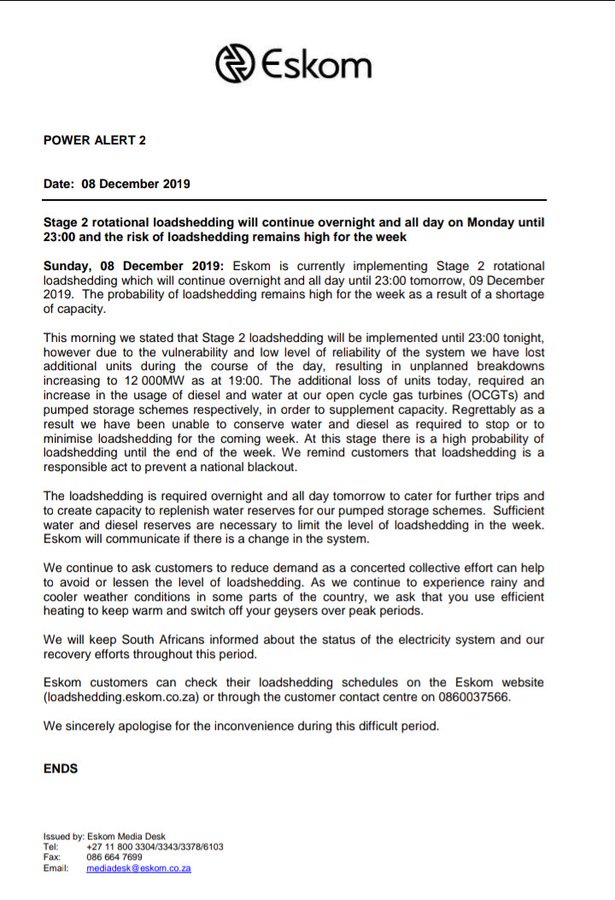 1528:13 PM – Dec 8, 2019Twitter Ads info and privacy489 people are talking about this