5FM has announced the launch of its '5ummer Takeover' campaign. The initiative will kick off on Thursday, 5 December and run until Sunday, 22 December. The radio station will head to three cities over three weekends, and host events that will include live broadcasts from Thursdays to Sundays and club invasions on the Friday nights.
The Roger Goode Show will start the campaign in Durban with the breakfast show. Free coffee will be given to the first 55 5FM listeners through the door at all the breakfast broadcasts. The event will take place at Doppio Zero, Umhlanga from 06:00 to 09:00 on Thursday, 5 December.
Thando Thabethe and Msizi James will take over Butcher Block on Florida Road with The Thabooty Drive (15:00 to 18:00). Kyle Cassim will broadcast live with Cassim's Kitchen at 19:00 from Taco Zuluon Florida Road.
On Friday, 6 December Roger Goode, Robbie Kruse and Sureshnie Rider bring their show from Starbucks on Florida Road, and The Thabooty Drive will head to Mexican-themed La Rosa at Suncoast Casino for the drive show before the 5FMWeekender5 take over Burlesque in Hillcrest.
Doors to Burlesque open at 22:00 and will have Msizi James, Nicole da Silva, Rob Forbes, DJ Fix and The Kyle Cassim Show residents Syzo and Warren G on the line-up.
Saturday, 7 December will see Msizi James at the beach-side as he counts down the hottest tunes for the 5FMTop 40 (Saturdays, 10:00 to 14:00) live from North Beach at Circus Circus Beach Café.
Individuals are encouraged to come for rooftop sundowners on Sunday, 8 December with Selective Styles with Kid Fonque broadcasting from 17:00 to 19:00 at Views @Twenty5. Guest DJs from Durban will be joining the show.
The team will then head to The Mother City on Thursday, 12 December, where The Roger Goode Show will broadcast from Cape Town's first authentic Parisian Crêperie, Swan Café in Zonnebloem.
The Thabooty Drive will broadcast live from Life Grand Café at the V&A Waterfront. Later on that evening, Cassim's Kitchen will have Kyle trying his hand at pizza-making at I Love the Dough on Bree Street.
On Friday, 13 December will see Roger and the team head to the newly opened Shift Espresso Bar at Waterway House, V&A Waterfront, before The Thabooty Drive makes Truth Coffee Roasting on Buitenkant their home for the afternoon. The first 55 listeners can claim their free cocktail from its new After Dark menu.
The 'Weekender5 club takeover' heads to Souk where the doors open at 20:00. Party-goers can expect 5FM's DJ Loyd, Ms Cosmo, Roger Goode, Msizi James, Ryan the DJ and Thando Thabethe on the decks alongside The House Connect resident Sir Vincent.
Msizi James will be at Rockpool in Seapoint while hosting the 5FMTop 40 show from 10:00 to 14:00 on Saturday, 14 December. Kid Fonque ends the weekend with Selective Styles live from Harald's Bar & Terrace at Park Inn, by Radisson Hotel on the Foreshore on Sunday, 15 December.
The final 'Weekend 5ummer Takeover' starts with The Roger Goode Show at Savages Fine Food for breakfast on Thursday, 19 December in Port Elizabeth Central. The Thabooty Drive will then broadcast live from The White Tiger in Humewood. Kyle Cassim will find himself at tshisanyama (BBQ) joint Black Impala for Cassim's Kitchen from 19:00.
The weekend will start in the friendly city with Roger Goode at Bocadillos restaurant and bakery, on 6th Avenue in Walmer, from 06:00 to 09:00 on Friday, 20 December. The Thabooty Drive will be at Tsogo Sun's Garden Court Kings Beach Hotel from 15:00 to 18:00.
Beer Shack on Marine Drive will host 'The Weekender5', where 5FM DJs, DJ Loyd, Msizi James, Thando Thabethe and Roger Goodewho will host when doors open at 20:00.
On Saturday, 21 December Msizi James will broadcast live from Blue Waters Café on the beach in Summerstrand for the 5FM Top 40 charts and Selective Styles with Kid Fonque, rounding off the 5FM '5ummer Takeover' 2019 at Roof Garden Bar on Sunday, 22 December.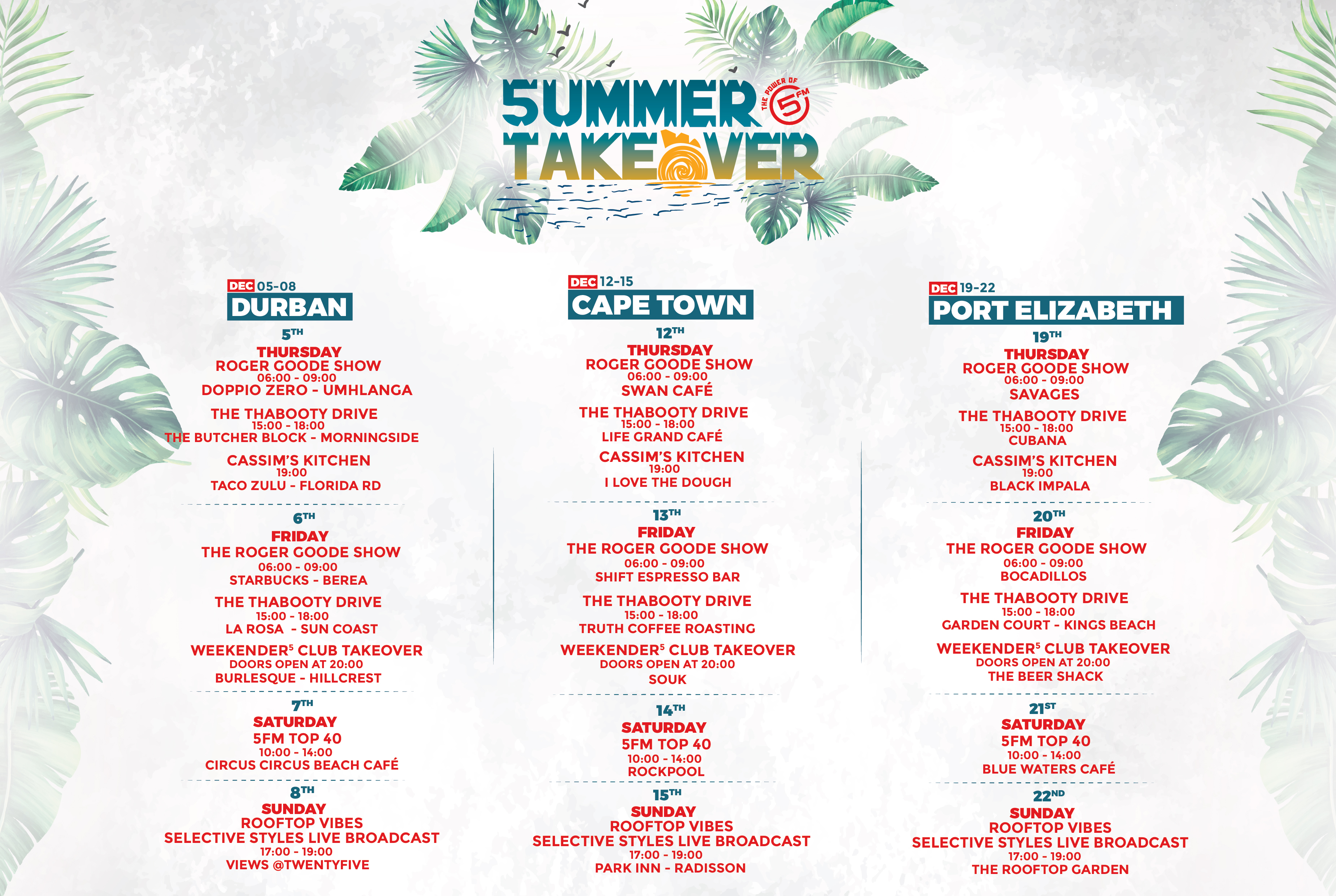 For more information, visit www.5fm.co.za. You can also follow 5FM on Facebook, Twitter or on Instagram.
source : https://bit.ly/2sO3e1T