Streaming services are high in demand. And with so many options out there, there are bound to be a few South African favourites. media update's Talisa Jansen van Rensburg walks you through the five streaming services South Africans prefer and what these services are best used for.
Streaming services come in all shapes and sizes, but it is important to understand what you are paying for and what you will get in return. South Africans have tested the different streaming services out and have made up their minds!
Here are the top five streaming services in South Africa:

1. Netflix
Netflix is a streaming service that offers a wide variety of series, movies, anime and documentaries. This service can be streamed on any device, which makes it convenient for South Africans to watch whatever they want, whenever they want to.
Statista looked at the number of South Africans on Netflix from 2016 to 2020, and its graph shows that by 2020 there will be 337.98 thousand South African users on Netflix.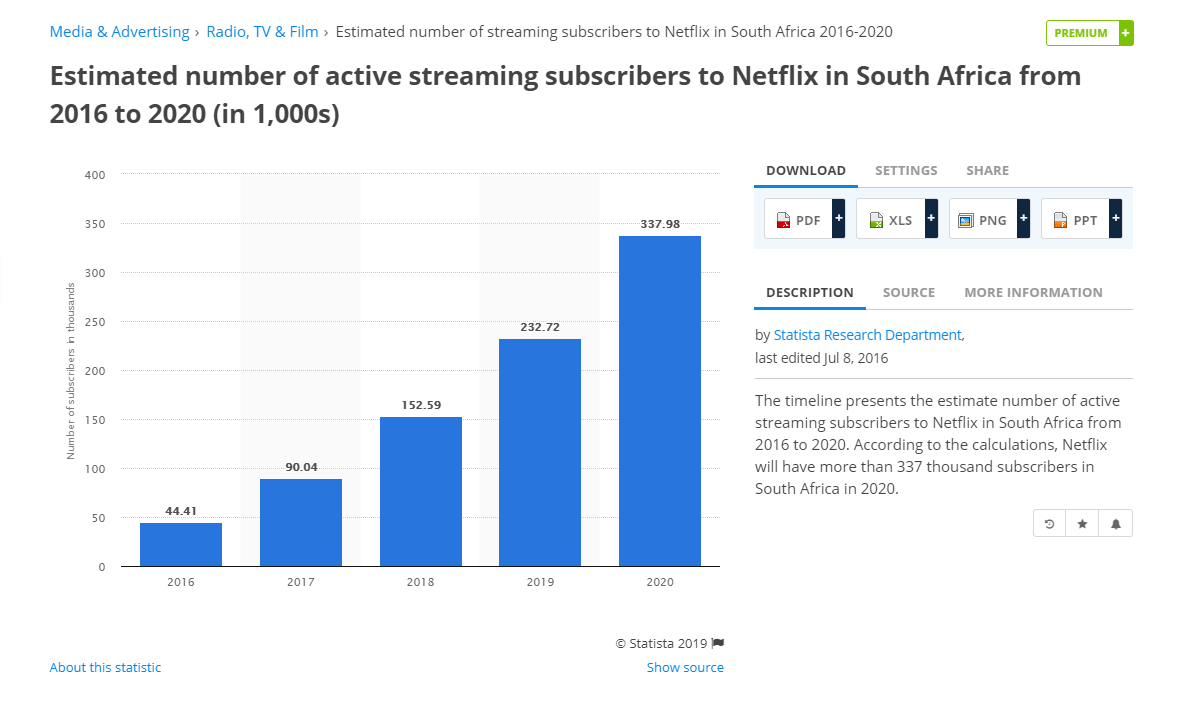 Netflix offers different plans, with the cheapest and most popular one being R99 a month. The best part is that Netflix offers a 30-day free trial, which gives users enough time to decide if Netflix is the right option for them.
2. Showmax
Showmax is a local streaming service that allows consumers to watch TV shows and movies.
This platform allows consumers who have DSTV to add Showmax to their account, but consumers who don't make use of DSTV can still use the streaming service. Showmax has popular shows on its platform such as The Walking Dead and American Horror Story, but it also has a lot of local, South African content.
Consumers get a 14-day free trial, allowing them to decide whether or not they enjoy Showmax, with plans starting at R99 a month. Consumers who are interested in local TV shows and movies might want to consider getting this service.
According to a Business Insider South Africa article by Thinus Ferreira: "A whopping 87% [of South Africans] said they use YouTube most often, followed by 6% for Showmax, 5% for Netflix and 2% for other services, such as Amazon Prime."
This shows that, when it comes to TV shows and movies, local is lekker!

3. Video Play from Vodacom
Video Play is Vodacom's new video-on-demand product that "allows you to watch the latest movies, series, kids shows and music videos wherever you are."
Video Play is a great platform for consumers who do not want to spend a lot of money on streaming services. Plans begin at R5 daily or R25 monthly; alternatively, consumers can take the premium package, which is R25 daily or R99 a month.
This form of streaming might be what consumers prefer if they're not a fan of long-term commitment since you can choose to do a daily or weekly payment instead of committing to Netflix or Showmax, which only allows for monthly payments.

4. Prime Video from Amazon
Prime Video is an American online streaming service that is available in South Africa. Prime Video can be watched anywhere, since it allows you to download what you want to watch on the app, it also have data saver, which allows you to control data when you are downloading or watching videos on selected phones.
Prime video costs $2.99 USD for two months, which is roughly R44.50. However, after two months, you'll have to pay full price, which is $5.99 USD, or approximately R90 per month.
Even though people make use of Prime Video in South Africa, an article written by Bradley Prior for My BroadBand says that "Netflix crushes Prime Video in South Africa".
The graph that Bradley Prior provides shows that Showmax and Netflix are by far the most-used streaming services in South Africa.
Although Prime Video doesn't have big hits such as Stranger Things they do have their own exclusive content which will encourage people to get Prime Video and pay for the monthly subscription.

5. black TV from Cell C
black TV is an entertainment offering that allows consumers to rent or buy new movies, as well as stream:

local and international TV series
movies
music videos
kids' programming
documentaries
news
sports
black TV premium is R99 per month, which gives you access to 40 live channels and also series and music.
The service also allows for a free seven-day trial that allows consumers to decide whether or not they want to pay the monthly prescription.
Do you think that local streaming services will take over international streaming services in South Africa? Let us know in the comments section below.